Sweet Sea Grass® Body Lotion 150 ml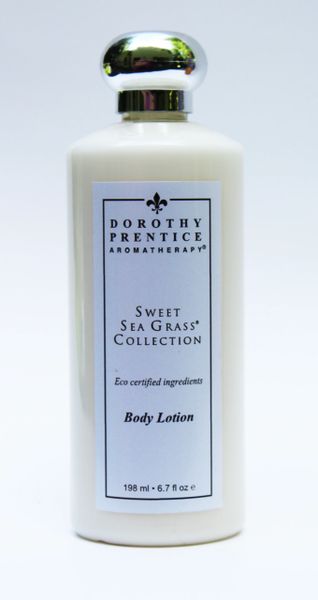 Sweet Sea Grass® Body Lotion 150 ml
Filled with marine extracts to slow down signs of aging. Wakame— a polysaccharide that has excellent moisturizing and anti-aging properties; Sea Fennel as a free radical scavenger; Plankton as an anti-cellulite; and Algae extract from the ocean bed in Hawaii promotes skin smoothness and delays the formation of wrinkles. (150 ml • 5 fl. oz.)
Customer Reviews
***** I first found this among the amenities at the Monterrey Marriott. Last year, I bought directly from Dorothy Prentice. Its light, non-oily texture is just right for summer. The fragrance is breezy but elegant and can be worn all day into night. As another reviewer mentioned, those with allergies to scents of body lotions may not react to Sweet Sea Grass.
***** This body lotion is AWESOME! It smooths out my dry skin immediately. The fragrance has an excellent aroma that smells wonderful but does not overwhelm. I am alergic to a lot of body lotions but this one soothes and smooths, it's just wonderful!
***** I was introduced to this at the Planters Inn, SC as well. I love the scent and the way it feels on my skin!
*****  I was introduced to the Sweet Sea Grass body lotion at Planter's Inn in Charleston, S.C. I am addicted to the scent, it is soft and lovely, and I have had so many people ask me what I am wearing, thinking it is perfume. I have family and friends now ordering this wonderful, light lotion. I am today re-ordering, I can't be without it!
***** As another reviewer stated, I first tried the Sweet Sea Grass lotion while staying at the Monterey Marriott. I have cough asthma triggered by some perfumes. Sea grass does not make me cough. It is just the right weight for spring and fall in humid Michigan. I am refilling my supply for the third time.