Sweet Sea Grass® Collection Bath Gift Box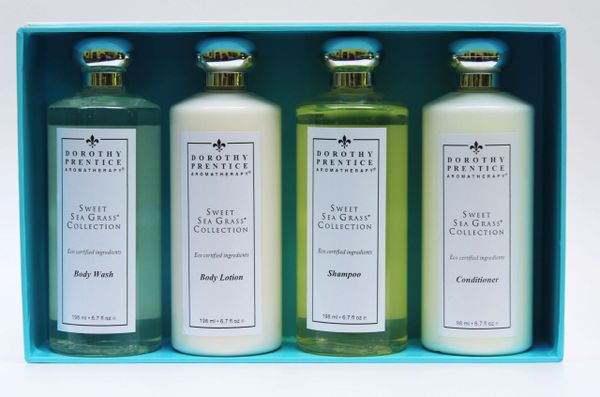 Sweet Sea Grass® Collection Bath Gift Box
This intoxicating combination of essential oils and summer herbs creates a scent reminiscent of fresh ocean breezes, tranquil sunsets on the beach, and gentle waves lapping the shore. Highly sought after by the most exclusive beach resorts in the world, our line of Sweet Sea Grass® products will refresh the skin and carry the calming scents of aloe, orchids and other botanical extracts with you wherever you go. Specially designed gift box containing Shampoo, Conditioner, Body Lotion and Bath Gel. Each Tube: (150 ml • 5 fl. oz.)
Customer Reviews

***** This stuff is the greatest set of bath products ever. Usually hotels give you the cheap stuff. I used this at the Tropicana Hotel in Atlantic City and it is just amazing!! I will definitely be ordering more of ths product! Please continue! Thanks!

***** Hello, This is my first time visiting your website because I loved the Sweet Sea Grass bath collection that I got from the Tropicana Hotel & Casino in Atlantic City, NJ.. I love your products, continue them please. Thank you. ~ Julia T.

***** This product was in the room of a resort we stayed in in Sarasota during a recent vacation. Loved the smell. It was of great quality and reminded me of fresh cut lawns. Truly a delight for the senses after sweating at the beach all day. Didn't need the cologne I had brought just used the body lotion.

***** I don't usually write reviews but this product literally transported me to a place in my memories. We were staying at the Planters Inn in Charleston, SC. My husband loved it As much as I did. We were disappointed that we couldn't purchase product at the Inn but they did refer us to this web site. I do think there's a missed opportunity in not creating a partnership with this Inn and others. I am happy that the products are available!

***** I cant say enough as to the excellent quality of the sweet sea grass. I used what the resort gave us, than i came to the website and purchased more. I absolutley LOVE it and it puts the rest to shame. Thank you for such a wonderful product.